As we move into the third quarter, Fossil Group continues to gain momentum with intensifying brand heat and further our commitment to Making Time for Good through the customer experience. With this in mind,  we're excited to share two updates from Skagen.
Celebrating WorldPride in Copenhagen
In celebration of World Pride in Copenhagen, Skagen is expanding its Pride collection with the Aaren Copenhagen watch, Skagen X Hoptimist watch, and two beaded bracelets that were inspired by the rainbow and transgender flag. 
The World Pride Aaren Pride collection was released in tandem with a minimum $25,000 donation to InterPride in 2021 from Skagen. 
Visit Skagen.com to view the collection and read the official press release here.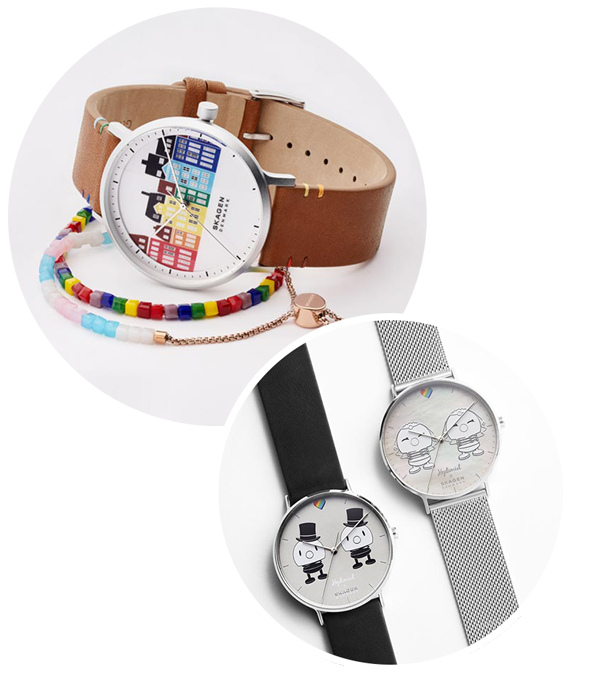 Sending Skagen Down the Runway
We're proud to announce Skagen's collaboration with contemporary fashion brand – Soulland. Skagen and Soulland have partnered together to create a limited-edition timepiece collection, titled Time: Our Tyrant, that was revealed for the first time on the runway at Copenhagen Fashion Week.
"We were thrilled when our partners at Copenhagen Fashion Week first connected our teams together. As long-time fans of Soulland, we knew that their modern take on fashion and strong Danish roots would make for an impactful partnership," says Steve Evans, EVP Chief Brand Officer. "During the process of our collaboration, we found alignment in our brand values, including a focus on designing with a purpose and taking steps towards a more sustainable future. We're excited to share this collection during Soulland's Copenhagen Fashion Week show and to officially launch in the coming months."
Read more in the press release here.