Meet STAPLE x Fossil — Fossil's new watch collaboration designed in partnership with iconic streetwear brand STAPLE, helmed by creative icon and streetwear pioneer Jeff Staple.Inspired by iconic watches from the Fossil archives and the concept of time itself, this limited-edition collection is a nod to the history of both brands and the element of discovery for the next generation of collectors. The watch builds upon elements of the archival Fossil Sundial and Hologram watches with an egg-shaped case designed to appear as if the watch was excavated from the Earth.
The co-designed timepiece collection will include three different colorways in a unique design that combines the Sundial and Hologram watches — two fan favorite pieces from Fossil's archive originally released in the early 90s.
Each timepiece is made with an automatic movement, stainless steel case (44mm) and unique terrazzo stone-inspired silicone case jacket and straps (22mm) created with ground silicone. The three terrazzo stone-inspired colorways are reminiscent of excavated Earth, the grind of debris in the city streets and the STAPLE iconic color combination. The STAPLE Pigeon logo is printed on the caseback with "STAPLE" embossed on the strap's keeper. Each timepiece is encased in a limited-edition, collectible egg-shaped tin.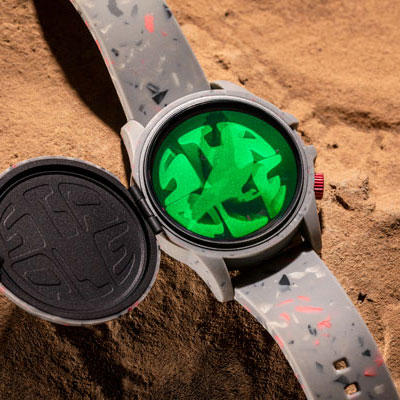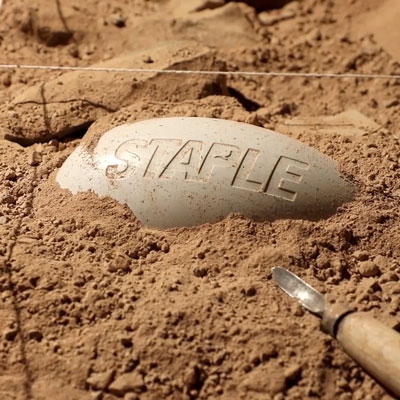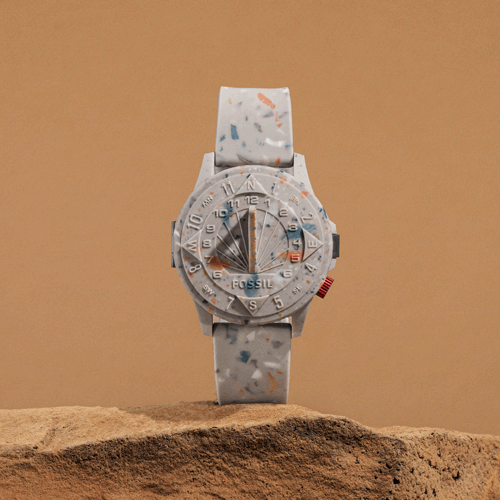 "For the STAPLE x Fossil watches, we blended the heritage of both brands to create something new that's perfect for collectors," says Jeff Staple, Founder of STAPLE & Reed Art Department. "The design features a special sundial and hidden Pigeon hologram — a nod to the Fossil archives with a STAPLE twist that will take flight on July 14."
"We are excited to partner with Jeff Staple, a streetwear pioneer, who shares the Fossil team's love of product innovation," says Melissa Lowenkron, General Manager of Fossil Brand. "Jeff's creativity is inspiring, and our design team loved working with him to create a unique watch, digital smartwatch dials, and NFT for a new generation of Fossil fans, watch wearers and collectors."