Fossil is excited to announce our limited-edition collection in celebration of International Women's Day, created in collaboration with Cedella Marley. We've partnered with the author, designer and recording artist to create a collection with reggae roots. Inspired by her father Bob Marley's hit single "One Love" and her Jamaican heritage, these bright styles embody the spirit of togetherness. As part of our ongoing effort to #MakeTimeForGood, 25% of proceeds from the limited-edition collection will be donated to World Pulse, a non-profit organization that uses social networking to drive social change by empowering women. Additionally, Fossil is making a donation of $10,000 to the Bob and Rita Marley Foundation to support the activities of the Jamaica Women's National Football Program, for which Cedella Marley serves as global ambassador. Since 2014, Cedella has worked to bring awareness and support to this program, which helps to level the playing field for young Jamaican girls using football as a means to empowerment, higher education and success both on and off the pitch.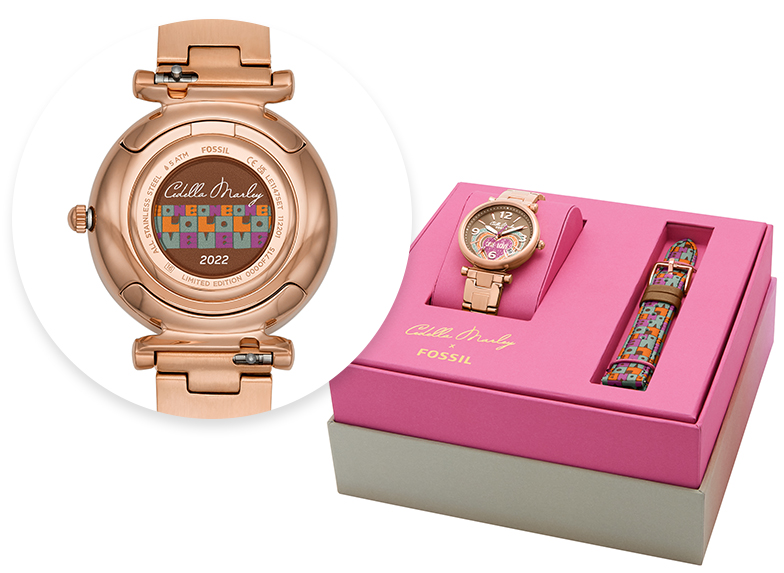 "I am thrilled to celebrate International Women's Day with Fossil," says Cedella. "Not only was I able to design a collection inspired by the deeply personal lyrics "One Love"™, Fossil has also generously donated to the Bob and Rita Marley Foundation for the benefit of the Jamaica Women's National Football Program. Over the past 7 years, I have been the global ambassador for them and worked to raise awareness and funding. I can not think of a better way to celebrate this day than uplifting and empowering these non-profit organizations."
Designed in collaboration with Cedella, the collection will launch on March 8 and includes a limited-edition watch set, backpack, clutch and necklace.