The next evolution of hybrid smartwatches has arrived. Fossil's industry-leading Hybrid HR line launches with always-on display, heart rate tracking and an astounding 2+ weeks of battery life on a single charge—all beautifully packaged in the classic styling of a traditional watch.
Hybrid HR makes it easy to see the information you want, when you want it—no waking, no swiping. Thanks to a new power-efficient, always-on display, notifications like incoming text messages, weather updates, and wellness stats like heart rate and step count are accessible at a glance.
"We are so excited to bring to market this version of hybrid that adds features like heart rate tracking and an always-on read-out display to make notifications easier to see—two big unlocks for our customers," says Steve Evans, EVP Fossil. "They want to stay connected while enhancing their personal style and these new hybrid smartwatches do both. We pride ourselves on being innovators in the fashion watch space, and we believe that the hybrid smartwatch is the future of fashion watches."

Smarter, Longer
With all features activated, Hybrid HR lasts for two weeks or more on a single charge
New Heights in Hybrid
Mechanical hands tell time like a traditional watch, but a dynamic, full round read-out display shows incoming text messages and app alerts as well as contextual information such as weather updates, second time zone and more
In-Depth Tracking
Displays wellness stats like heart rate, steps, calories and active minutes, also allowing users to log workouts, track sleep and measure progress over time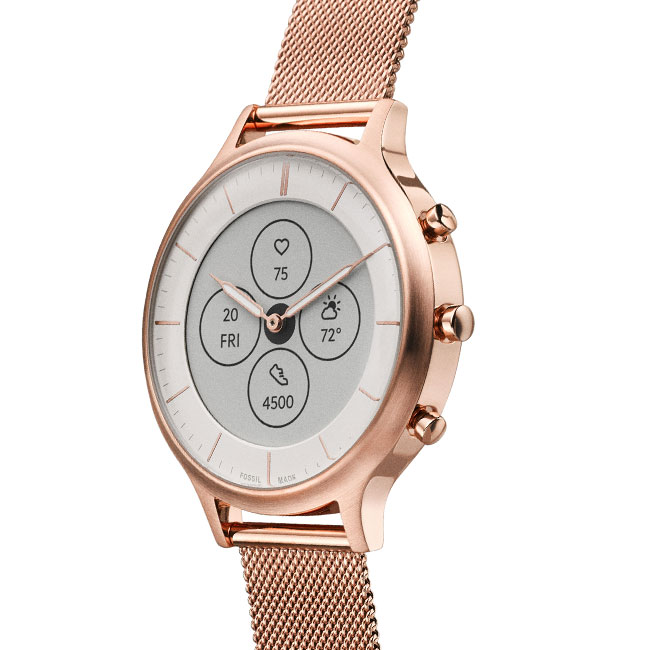 The new Hybrid HR will retail at a starting price point of $195 and is available for purchase today on fossil.com and in select Fossil retail stores globally. It will be available in India beginning November 18.
---
Leading the Pack
The launch of Hybrid HR continues Fossil Group's recent string of success. It follows the August release of Fossil's next-gen touchscreen smartwatches featuring the proprietary Phone app, the first and only app that allows iPhone users to make tethered calls on the Wear OS by Google platform. It's a testament to the engineering prowess of Fossil Group's 200-strong research and development team who, time and again, meld cutting-edge tech with the style and selection customers demand. This 2019 fall/holiday retail season, Fossil Group will launch more than 100 new smartwatch styles across 10 brands, an assortment unrivaled in the industry.
---