At Fossil Group, we're committed to providing an environment where our employees are encouraged to come as their authentic selves and freely share their one-of-a-kind skills, experiences, and perspectives to make Fossil Group Greater Together. We believe that our diversity makes us…us. That core belief is one of the many reasons we continue to advance our work around Diversity, Equity & Inclusion and partner with external organizations to advance our impact globally.
We are pleased to announce that we are continuing our Open To All pledge! Open to All is a national nondiscrimination campaign that believes everyone should be welcome regardless of race, ethnicity, national origin, sex, sexual orientation, gender identity and expression, immigration status, religion, or disability. As part of the pledge, we are committing to not discriminate against any individuals or deny them goods or services based on any of these characteristics and to provide all goods and services to everyone on the same terms. The Open to All® campaign is also supported by more than 200 national and state civil rights and racial justice organizations; LGBTQ organizations and community centers; health and healthcare advocates, disability advocates, and inclusive faith organizations; and more.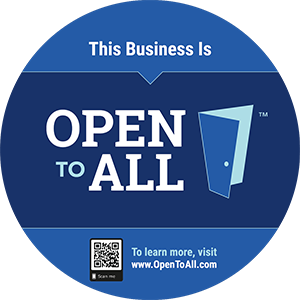 Learn more about our commitment and Open to All in the full press release.