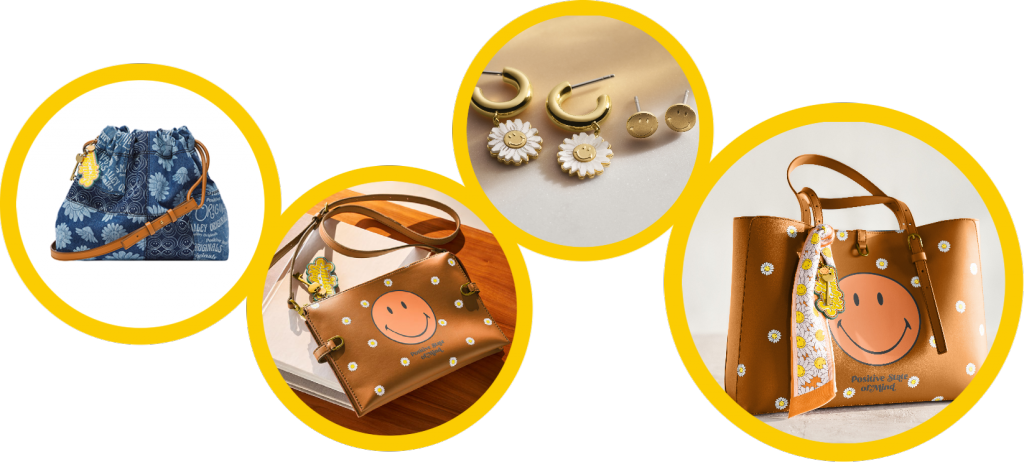 Fossil, in partnership with SmileyⓇ, is excited to announce a limited-edition capsule collection of cheerful accessories. Featuring the iconic brand's trademark Smiley face and Fossil's signature silhouettes, Fossil x Smiley includes handbags, small leather goods and jewelry with designs from both brands' respective heritage. Following the first collaboration, which launched earlier this year as part of Smiley's exclusive 50th anniversary Collector's Edition, Fossil is thrilled to release a new collection of accessories that shares a mutual spirit of optimism — launching May 9.
The collection launches with two handbags from our bestselling Kier platform — the Fossil x Smiley Kier Tote and Fossil x Smiley Kier Crossbody. Made with vegan cactus material and high-quality REPREVEⓇ recycled polyester lining, both bags picture Smiley's iconic face, cheerful daisy prints, and key fob. The tote also features a removable denim pouch and print of Smiley's upbeat mantra 'Positive State Of Mind' on the bottom. Fossil x Smiley also includes a denim-inspired version of the Gigi Drawstring Shoulder Bag, with signature prints and key fob.
Launching alongside these are: Fossil x Smiley Logan Zip Around Clutch, Polly Card Case, Steven Card Case, Joshua Bifold Wallet, Joshua Slim Card Case made with vegan cactus material, Daisy Key Fob, and Daisy Scarf.
The Fossil x Smiley collection also includes gold-tone jewelry, with pieces highlighting the Smiley face, daisy motif and colorful beads. Launching in the capsule are stud and hoop earrings, two bracelets, three necklaces and a ring.
Visit Fossil.com to shop the Fossil x Smiley collection and follow @Fossil to stay up to date on current and future launches.