Fossil Group celebrates passionate individuals who share our values and strive to make a big impact. Authenticity, grit and curiosity are all qualities that describe Ada Tsang. As the first woman from Hong Kong to climb Mount Everest, Ada embodies these values—and all with a sense of humor. Recently, Fossil Group invited Ada to its Hong Kong office to share her story.
---
AN INCREDIBLE GOAL
As a secondary school teacher, Ada challenged her students to set a goal and plan their journey to reach it. "When I challenged my students, they challenged me back," she said. And so, Ada decided then and there to create the goal of conquering Mount Everest.
Ada started her journey with no experience in mountain climbing. She quickly learned she would have to go through years of high intensity training to complete her goal—starting at the beginning. "No matter how big your dream is, you need to break it into small pieces so you can achieve it," she said.
Before she moved onto rock climbing, Ada began climbing ice, slowly going higher and higher. Her first extensive rock climbing journey took several days.
In addition to climbing, Ada knew she needed to increase her fitness level, so she began running. She added other activities, such as cycling and kayaking, into her routine as well.
---

A LESSON IN GRIT
In 2014, more than four years after she originally decided to climb Mount Everest, Ada's first attempt was canceled. An avalanche claimed the lives of 16 Nepalese Sherpas and all climbing was then suspended for the remainder of the year. "In climbing", said Ada, "the climate determines your success." While the temptation to quit was there, Ada knew she couldn't let her students down.
"It is human nature to give up when you face adversity, but for me, encouraging my students to pursue their dream kept me going. Promises are important to me, so that's why I didn't give up," said Ada.
Over the next year, Ada continued her high intensity training, making many sacrifices to reach her goal.
Ada attempted to climb Everest again in 2015. This time, an earthquake triggered an avalanche that swept through basecamp. Her entire team was caught up in the ice slide and suffered many injuries. Ada had a fractured skull, but was fortunate to escape with her life. She joked that her memory loss from the incident actually made it easier for her to go for a third attempt. Determined to grow from the experience, Ada said, "all the failure and difficulties made me train harder and made me more focused, so I returned stronger."
---
"Whenever it got difficult, I would think, 'This is going to turn me into a bigger person if I find a way to solve the problem.'"Ada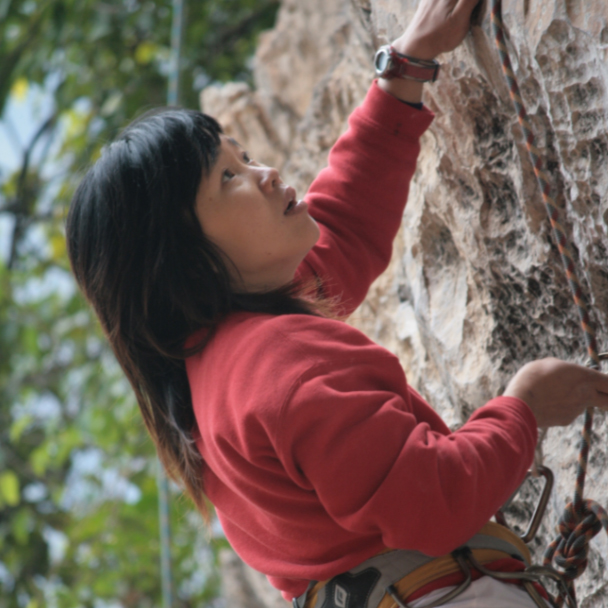 ALL IN
It was at this point that Ada made the difficult decision to quit her job and put all her focus on training. To Ada, pursuing her dream was still a form of education. This level of dedication meant Ada had to ride her bike to training each day, bring her own lunch and stop spending money—all to see her dream come true.
Finally, seven years after she set her goal to climb Mount Everest, Ada Tsang made it to the top. Her students, many of whom Ada still keeps in touch with, were inspired and encouraged by her dedication. "All the difficulties, whenever it got difficult, I was just thinking, 'This is going to turn me into a bigger person if I find a way to solve the problem.'"
Despite the adversity Ada faced throughout her journey, she never gave up. At Fossil Group, we salute fearless women like Ada who empower other women through their actions. We're looking forward to following Ada and learning what goal she's tackling next.
---